March is the month where I seem to be like a Mad March Hare chasing about the country, and this year has been no different.I started my travels on Tuesday 2nd March,  the day before World Book Day.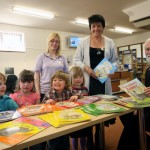 I set off for Aberdeenshire and the lovely library in Ellon where I was speaking to a lovely group of children and parents from Gordon Park Playgroup and the children were very excited when Hamish McHaggis himself dropped in to say hello!
On World Book Day Hamish McHaggis followed me around in his Whirry Bang and made a surprise appearance in Newmachar Library where all the children had dressed up for World Book Day as  their favourite characters.
Later I visited Inverurie Library where I spoke to lots of boys and girls from local schools.  The children were very excited to see Hamish when he came into the Library.