Before I left for New Zealand I visited some lovely schools in January – so here is a bit of a catch up!
It was a lively and fun-filled day on 18th January when I visited two schools reading stories from the Hamish McHaggis books and talking about Hamish and his friends.
First I visited Hamilton College.
The boys and girls in the junior school  enjoyed the Hamish stories and they were very patient as I signed their books.
It was rather a long queue!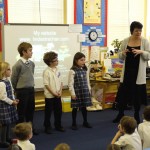 From there it was a quick dash to Kelvinside Academy where we talked about how many people it takes to make a book like Hamish McHaggis.  Here we have some very keen candidates for different jobs in the publishing world!