Contact Me
Gritty, fast-paced urban tales – – YOUNG ADULT NOVELS —
DEAD BOY TALKING – The Bookbag – review
Linda Strachan tells Josh's story in a series of flashbacks as he lies bleeding and alone. It's a difficult story and she doesn't flinch from some hard truths. Josh certainly isn't a cold-blooded murderous teenager and he didn't set out to stab Ranj. And his parents do have a great deal to answer for: they've neglected Josh terribly since his brother ran away from home and they've missed all the cues that attentive parents perhaps would have picked up on.
But all that notwithstanding, Josh is culpable too – and he knows it. He allowed jealousy to come between him and Ranj; he chose to carry a knife; he provoked confrontations with Harry and his YHT gang. There aren't any moral absolutes and Strachan doesn't pretend that there are. Tension builds remorselessly as Josh's clock ticks down. Will he be found in time? And will we ever find out what happened to Gary?
I don't mind admitting that I shed a tear at the end of this book. It really does bring home the horror of knives. Having said that though, harsh and uncompromising it may be, but it doesn't end on altogether bleak note. There are fresh beginnings and I think this is a message that we really need to get through to teenagers. It doesn't matter how many paces down the wrong path you go, there's always a way back. Teen fiction is engaging admirably with the knife crime issue, and Dead Boy Talking is a welcome addition to that conversation.
*************
SPIDER 
'A gritty fast-paced urban  tale about three teenagers who steal a car –   it crashes and changes their lives forever.'
The Scotsman – review
You can almost hear the wheels spin, smell the tyres burn.
When the accident happens it's with a sickening inevitability. We then share the thoughts of the main characters as they await recrimination and attempt both physical and mental recovery.
Spider believes it's entirely his fault for drawing others into his web. Strachan, however, allows the reader to see a bigger picture of leaders and their followers.
***********************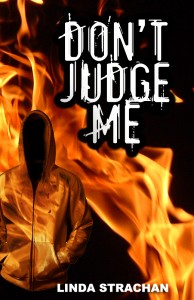 Don't Judge me  –
 A tricksy whodunit…..   The shifting viewpoints wrong-foot the reader and the red herrings are well concealed within the intricately structured plot. I admit I was completely surprised by the final reveal.  –Keith Gray- The Scotsman
Our Book Reviews –
Strachan has done it again – a story that brings real teenagers to the page, caught in situations that they really find themselves, showing decision making, reasoning and judgements that they actually make.
A group of teenagers out on the street of an evening and there is a fire in a flat. It's arson and someone is critically ill. Did one of the teenagers do it and if so which? There is no shortage of motives but surely there is only one person responsible?
As I read this I witnessed the teenagers judging their peers and found myself party to those judgements. The thing was the only evidence we saw was even less than circumstantial. And when we finally learn what really happened – and everything falls into place – we suddenly understand the thinking of the teenagers and that our judgements were unfair.
**************************************************
 Durham Johnston High School
'our students are still buzzing with it!'
"Linda visited our school on World Book Day and provided a wonderful afternoon which kept over 100 Year 7 students, and their teacher, spellbound with her insights into the ideas and fascinating research which lie behind her books. The many questions asked by our students showed how much Linda's knowledge and enthusiasm had inspired them to read and write even more. A truly inspiring afternoon and we look forward very much to welcoming Linda back again in the future."
International School of Aberdeen 
Linda Strachan read an extract of "Dead Boy Talking" to our fifth graders. You could have heard a pin drop! Linda really knows how to hold her audience's attention. The students were enthralled but disappointed that they couldn't get hold of the book immediately to finish reading it for themselves, as both the subject matter and writing style appealed to them. After her visit many of our students went on to read her other book aimed at teenagers, "Spider." This book also deals with hard-hitting, 'youth' topics- joy-riding and teenage pregnancy. A book I would definitely recommend.
Katherine Grover School Librarian – International School of Aberdeen
*************
It's that time of year 🙂 when the fabulous Kids' Lit Quiz returns to the UK. The Scottish heats are being held on Monday 10th November 2014 in Kilsyth Academy and on Tuesday 11th November 2014 in Liberton High School – which as you know is the school where I am proud to be the Patron of Reading.
I am looking forward to taking part.  I sadly won't be able to make the Glasgow heat in Kilsyth but I hope to be in the Author's Team in the heat at Liberton High on Tuesday  and the following day,  after running a workshop for young writers from  Chantry Middle School in Morpeth, I will be travelling with the school team to attend the Newcastle KLQ heat at Gosforth Central Middle Schoo.  It will be a lot of fun and as always the student competitors are the  stars, amazing everyone with their knowledge about books!
The Kids' Lit Quiz is an annual quiz for students aged 10 – 13 years. Teams of four students, from Year 6, 7 and 8, are asked to answer 100 questions on children's literature divided into ten categories, which vary each year. Teams work collaboratively to answer each question put to them by the New Zealand Quizmaster Wayne Mills.
A school can enter up to two teams. There are 18 regional heats in the UK. The winning team from each region competes in the National Final which in 2014 will be held at Kings' College School Wimbledon, London. The overall UK winning team will be invited to compete for the International Title in Connecticut in the summer of 2015.
---
Edinburgh Book Festival YA event –
Charlotte Square Gardens, Edinburgh
7pm  Saturday 23rd August 2014
Laura Jarrett and I will be speaking to Julia Eccleshare about our books Louder than Words  and Don't Judge Me  in an event called  Motive and Intention
So do come along and ask us some questions!
………………………