It ust worked out that way but all three places I visited in the same week had names starting with A and they were all A* visits!
I began the week close to home and was delighted to be back in Aberlady Primary school, this time to visit the Primary 4/5 and 5/6 classes I had missed out in my previous visit in the autumn, when I spoke to the younger and older chidlren.
There are some good pictures and a write up of my visit on the school blog

"We love Linda's books, about Hamish McHaggis and other characters. We felt inspired to go off and write for ourselves. Thank you again, Linda."
**********
The following day I was off to Aberfeldy to the Breadalbane community Hig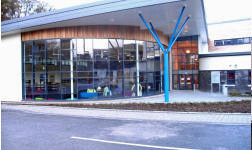 h school and Library which is a beautiful new purpose built complex for all the community as it is a sports centre, primary school, high school and library with easy access only moments walk from the middle of town.
I was speaking to the top of the primary school P6/7 and in the afternoon I was with S1 classes, speaking about writing and my teen novels. They were great events and the questions just kept on coming.
Driving back I found myself in a winter wonderland at one point where freezing fog was settling down over snow-clad pine trees and mountains which was so beautiful but unfortunately there was nowhere I could stop to take a photo!
***********
The next day I was off to Alloa to Sunnyside Primary school as part of their book week when they also had visits from other authors, Lari Don and John Fardell as well as performance poet John Hegley.
In the morning I had fun reading to the nursery classes, and then with Primary 1 and 2 we shared Hamish McHaggis stories and in the afternoon it was the turn ofP3.
Ialso visited the nursery afternoon group reading
What Colour is Love?
Quite a bit of travelling but a great A * week!
————-