I was contacted by Laura Pughe, the P2 teacher at Howwood Primary school, who told me the boys and girls in her class were very keen to meet me because they had been working on the Hamish McHaggis books.
I was delighted when I got there to discover all the wonderful things they had been doing.  In their classroom was a little Hoggle, and big pictures of Hamish and his friends.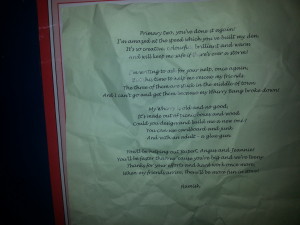 There were letters that Hamish had sent to the class, some of them asking the children to do special tasks, such as building their own Whirry Bang vehicles.
Their classroom was full of the wonderful Whirry Bangs the children had made at home.
and all sorts of interesting things they had discovered about the characters.  The children had each had a chance to take cuddly little Hamish toys home and wrote about where they went with Hamish,  and there was a wall of tartan and even a visitor's centre.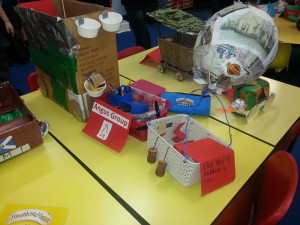 They had written stories about  spotting Nessie, the Loch Ness Monster and what a surprise they got when Hamish himself paid them a visit while they were singing his favourite song!
It was a lovely afternoon!