We had a lovely morning on 1st December in Looking Glass Books in Edinburgh, when Sally J Collins and I told Hamish McHaggis stories and drew the winners of the 'Where would you take your Hamish?' competition, with the help of our young audience.
And, of course Hamish came along too!  Here he is with a wee Hamish, and Sally!
Lauren Peattie was the lucky winner of the Hamish competition. Her picture was drawn from all the many entries.
Pictured here with Fiona from Longniddry Library, receiving her prize of a cuddly Hamish, a signed book (she chose Hamish McHaggis and the Search fro the Lost Prince)  and other Hamish goodies.
Well done, Lauren!
Miriam Jeavons, from Newington Library in Edinburgh, took Hamish to Fairyland and was runner up winning the Hamish McHaggis Activity and Story Book.
Here are some of the Hamish McHaggis entries…
From Prestonpans Library
From Longniddry Library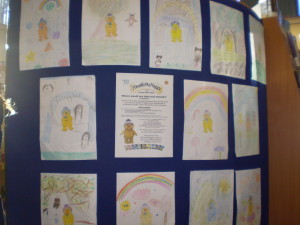 And from Gullane Library
……………………………………………………..