I had a lovely time last week when I was up in Aberdeenshire for Book Week Scotland.  I visited Strachan Primary (had to remember to call it STRAWN!) and spoke to both composite classes there. The little ones (Mainly P2) were all very keen on Hamish McHaggis!
I spoke to the older class P4-7 about Greyfriars Bobby and of course Hamish got a wee look in, too! I read  Gordon Gets Even which they enjoyed and  led to a bit of a chat about bullying.
The next day I visited Portlethen Primary school P1 P1/2 and P2 and then off to Bervie Primary school.  It was a busy day!  the following day I visited Mearns community library and a class from Laurencekirk Primary came along to hear all about Hamish and this great picture was drawn by Paige (Thank you Paige it is lovely!)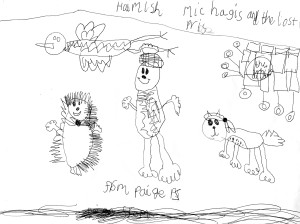 Later that morning I spoke to a class from Mearns Academy, S2, about Spider and my other YA novels.  Lots of interesting questions but sadly, as often happens we ran out of time!
Many thanks to the lovely librarians and teachers who helped organise these events and the Jules and Forbes for your kind hospitality in Strachan.
Always a pleasure to visit Aberdeenshire, and I'm planning another wee tour in the area, a bit further north, in March 2015.
—————————